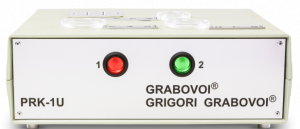 Fully experience the PRK-1U configured on you
Progressively dissolve the obsolete conditioning that has limited you until now.
Materialize more quickly and harmoniously the changes and the projects in agreement with your deepest aspirations, in the various fields of your life.
Rediscover and manifest your ability to control reality more extensively.
With the individual setting during this session, you interact with the device that captures the light emitted by your thoughts, intensifies it considerably and returns it to you.
Come and experience your capacity to develop your consciousness and the positive impact this evolution can have on your reality.
The PRK-1U Immersive Experience is a prerequisite if you wish to enter into a PRK-1U sublicense agreement.
You are configurated on a PRK-1U for the session.
Theoretical tips to the reality control process and the functioning of the PRK-1U.
90 minutes interaction time with the PRK-1U
Everything becomes extremely simple, fluid and fast: I can only say that the PRK-1U must have acted as an incredible booster.
Franck

The work with my PRK-1U is getting deeper and deeper, I feel a density and acceleration, as well as some really concrete effects in reality.
Valérie

PRK-1U experience done... This day of experimentation is extremely powerful. I felt a lot of sensations on my skin. In terms of thought and resonance: a feeling of faith, of conviction. A global understanding.
Patricia

My emotional state is more stable. This afternoon, in a work group with two PRK-1Us, we had rich interactions. My perceptions are becoming more and more subtle and profound, the words I spoke were aligned, loving and clear-sighted. Touching according to the testimonies too. With joy in my heart and a smile on my face, I am delighted by this group discussion. Since the end of the day, I have had a few very pleasant laughs. The experience is rich and has allowed me to develop relationships and to have magical encounters. Sharing your feelings seems essential to me.
Sylvie

NEXT PRK-1U immersive experience
monday november 27 from 8.00 pm to 10.00 pm (paris time zone)
sunday december 10 from 6.00 pm to 8.00 pm (paris time zone)
Frequently asked questions
On the day of the event, all you have to do is click on the zoom link after having downloaded the software to your computer.
Yes, you will receive an email a few days before to remind you of the upcoming event.
Make sure, as soon as you receive the confirmation email, that our emails are in your inbox and not in your spam. You will also receive an email the day of the event.
It is possible that you have received this email in your spam. If you really can't find it, you may be one of the few people who do not receive our emails.
In this case, please send us an email at customer@prk-1u.com and we will confirm that you are registered.
You experiment with control methods on a PRK-1U device on which you are configured.
You are guided in this experiment session through concentrations that allow you to control different aspects of your reality.
This interactive group session will answer your questions about the modalities and use of PRK-1U in your daily practice.
The PRK-1U test session is the necessary step for you to sign up for a PRK-1U sublicense agreement.
The session lasts 2 hours including 90 minutes of concentration with the PRK-1U device.
No, it is a live experience.
Yes, the session allows you to learn about the PRK-1U and how to use it and then sign up for a PRK-1U sublicense agreement.
This session must be paid by credit or debit card.
If you really can't pay by card and no one can do it for you, please send us an email at customer@prk-1u.com
Due to limited space at online events, variable refunds are applied in the event of registration cancellation based on the following deadlines: 15 days prior to the event the refund is 100% of the total amount.
No refunds will be given if less than 15 days notice is given.
In case of force majeure, please send us a message by clicking on this link.
The duration of the configuration is 90 minutes. To continue your work, it is necessary to sign a sublicense agreement.
No, this is not possible.
PRK-1U Immersive Experience is an event organized by EWO Infinite Group. It allows everyone to experience the PRK-1U concentration enhancer device with individual configuration and to feel its benefits. This session is a mandatory prerequisite for signing a PRK-1U sublicense agreement. The fee for this PRK-1U Immersive Experience session includes the cost of the participant's individual configuration to a PRK-1U concentration development device. The cost of this session is 100 euros. All registrations are due in full and cannot be refunded. In case of non-participation in this session and without having informed our services 24 hours in advance by email:
order@prk-1u.com
a fee of 100 euros will be charged. (according to art 404 Swiss CO)
PRK-1U and the methods mentioned are not intended to cure or diagnose any disease. They are only distributed on an experimental basis, without any promise of results.
Under no circumstances do they exempt a user from taking his or her medication or consulting a doctor.